Security guard companies, regardless of their size, should aim to automate security guard schedules.
Why?
You will save a lot of time since relevant information will reach the security guard faster and automation eliminates the chances of any miscommunication.
Say your security company had 500 security guards providing different security services at different locations. Imagine the time you'll waste on preparing a schedule for each guard and then calling all of them to inform them where and when they are supposed to be.
A security guard scheduling software can help you assign tasks and report to all security guards on a single platform. Some of these software programs also offer mobile applications which the guards can use to get view their schedule and do much more.
There are many handy features and benefits that this software can offer. In this article, we will take a look at these features and see how they will help you drive up the efficiency of your team.  
Tools provided for efficient scheduling
Let us take a look at the key features provided by a security guard scheduling software.
Scheduling
You can automate the security guard scheduling process with the help of a security guard scheduling software. Create schedules based on the guard's location and qualification.
Assigning Shifts
A software can also allow you to create optimized shifts that don't overburden your security officers. It can also automatically swap shifts in case of anyone calling sick day and send revised schedules directly to the guards' mobile devices.
Notification
Notifications are sent to guards' mobiles in case of new schedules, rearrangement of shifts and location change, or any other change in the schedule.
Reports
Reports are created automatically with the help of the system where it can auto-fill shifts, record on-call hours, record in times and out times, record breaks, record out of position time, and much more, depending on the behaviour of the guards.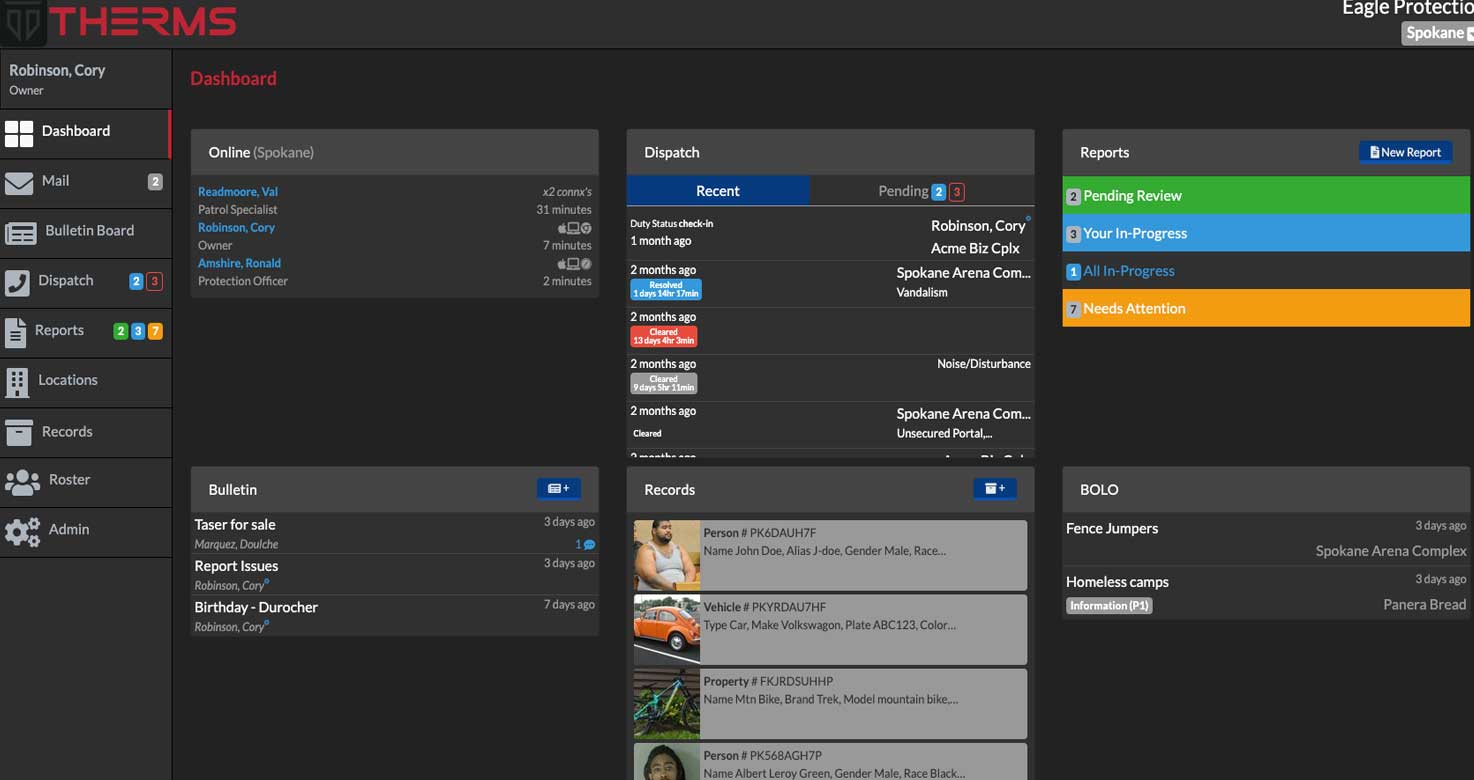 Payroll integration
The salary of all the guards is calculated depending on the shifts, the number of leaves taken, and overtime shifts/ double shifts completed at the end of every month.
GPS
With the help of GPS, you can keep track of all security officers stationed at multiple locations, know when your guards leave or arrive at any location.
Multiple communication channels
Security staff, clients, and management can communicate using multiple modes like emails, messaging, chat, text messages, and live alerts. All of these can be accessed through a mobile app and web app.
Employee Database
A database holding data about the organization's employees and their client accounts. It is automatically updated upon any change in the organization.
Benefits of Automating security guard scheduling

The features that we discussed above offer plenty of benefits. They are designed to help you save time, money, and effort. Wondering how?
Here are the top benefits of a security guard scheduling software.
Create work schedules with ease
You can create schedules easily with the software. You can check what has been assigned already to the guard and quickly add another task for him. You can swap shifts at any time upon request.
The system gives automated shift callouts to the guards along with other necessary information regarding the on-site task.

Error-free schedule
It also helps you rectify any mistakes in your schedule. The software helps you to avoid any repetition of assigned shifts and to select the right security guard for specific tasks, based on their location and other relevant data points.
Every location has its own set of security needs, and not every guard is suitable for every location. This is why it's critical to hire the correct guard for the job, based on their skills and experience. You will be able to quickly assign the appropriate guard for a location by automating the detection of demographics and expertise.

Higher retention of security guards
Lack of employee engagement, a hectic work schedule, and inconsistencies in payroll processing are some of the reasons behind the high-security guard turnover.
A security guard management software can help improve your onboarding process while also helping with more efficient scheduling. Improvements in just these two areas can do wonders f the state of your company's employee engagement.
You can improve employee engagement with faster communication and query resolution. They can stay up to date with current updates relevant to the company and their employment.
Security guards are also guaranteed to receive accurate payroll for their actual work hours. They get a chance to request desired work hours. It also gives instant access to all the details regarding shift assignments.
Flexibility
The software gives security guards flexibility to change their schedules based on their desired work hours. This is called self-scheduling. You can give them a few options or open shifts and they can choose to self-schedule, if they think that option is more suitable for them.
Open shifts are vacant shifts that can be used by the guards to trade their originally assigned shifts. Self-scheduling relieves schedulers of their responsibilities and empowers employees with greater independence.
Labor cost control
The automated scheduling system keeps track of all the work that your security staff has done or has not done. It records security guard's leaves and extra working hours too. With the track of their working hours and performance, you can accurately calculate the payroll. The lack of inconsistencies helps you reduce labor costs. Moreover, the system does the task for you, so you might be able to save additional money on labor.
Faster communication
Faster communication is critical for success for any service-based company. If messages are received faster the guards can take quick actions. Providing correct information, addressing queries, and daily updates are all a part of this communication strategy.
Everyone can communicate through the mobile app or web app and stay in the loop. Clients and security guards can get their queries answered instantly. Communication modes such as bulletin reports, internal emails, and messaging can be used to quickly convey any message relevant to the receiver.
Save time
Relying on a paper-based scheduling system is very time-consuming and it may also not be very accurate. A security guard scheduling software can help you be more efficient at managing your business. Since all tasks like creation, notification, database collection, etc. automatically. you save a lot of time. You can use your spare time to focus on maintaining good relations with your clients and bringing in more business.

How will it change the user experience?
The primary users of this software are the security guards, the client, and the management team.
Let's take a look at how automating the scheduling process with software can impact each of them.
Security Officers
These are the people who are usually not very tech-savvy so they want a solution that will make their life simpler and not complicated.
With guard management software, the confusion or miscommunication regarding the schedule and shifts is resolved. Whether they have to go on call today, when they have to go and where they have to go, all details are available on the scheduling software app which can be accessed through their mobile phone.
These mobile apps are usually very user-friendly and are designed considering the technical difficulties one might face.
Self-scheduling gives them the liberty to choose their preferred time for working.
Notifications ensure that they are never late or miss a shift. All their queries can be answered using the communication channels, eliminating the need to chase around the management staff.
The Client
For the client, managing their security staff is a hassle but with the scheduling software, it will become easier for them to keep track of the security status of their premises.
The live tracking feature will help them keep an eye on every guard on call at multiple sites on their premises. They can view the schedules and shift timings of guards. They don't need to assign a dedicated resource for the task of monitoring the guards.
Using the software's multiple communication channels they can raise a request for extra security personnel or raise any query regarding schedules through the mobile app. There is no need to visit the office or call support personnel as all their requests and queries are answered through the app itself minimizing the request resolution time.
Management Team
For management, the software provides a rich database to keep a record of all employees. It eliminates the need to keep manual records and update them in physical files or Excel sheets.
They get auto-generated accurate reports which tell them about the performance of every security personnel. These reports can also be used to answer any client complaints or queries.
The accurate payroll integration feature calculates the salary each employee should get, depending on their work, eliminating the need to calculate them manually.
They can keep track of employee availability and swap shifts based on the requirement. Since all the schedules are available to the guards as well, this reduces their work of conveying any change in schedule.
Conclusion
In the security business, the larger your security staff and clientele, the stronger the need for automation for efficiently performing day-to-day activities. This software automates one of the most tedious jobs for you i.e, scheduling and assigning shifts.
These software programs come with very handy tools to make your scheduling activities faster. Empower employees with self-scheduling and give them the freedom to change shifts. Security companies with scheduling software can drive more efficiency by reducing the workload on the managers allowing them to invest their time in activities beneficial for your business.
Having a transparent system like this will help you foster better relationships with your client and your security guards. It will give your business better growth in business, better employee satisfaction, happy clients and you will end up saving a lot of time and money.