In this tutorial we walk through the basics of getting your organization setup after registering a new account with THERMS.
After registering a new Organization, there are a few steps you'll want to run through to make sure your account is setup correctly.
Organization Info
Navigate to the "Admin" link in the main menu. Then click Organization > Info. Ensure all information is accurate and complete for your Organization.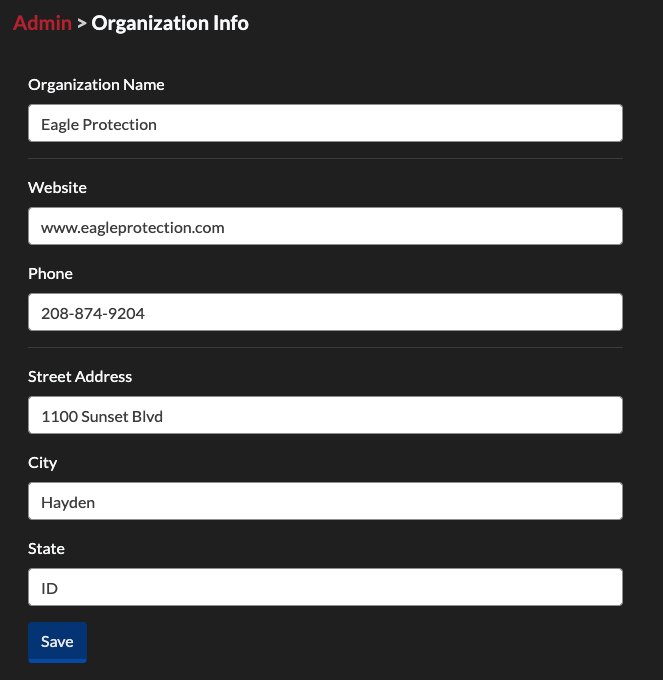 Modules
Modules are features used by your organization on THERMS. The ability to use Reports or Dispatch are modules. There are different Modules available to provide various functionality in your account.
Navigate to the "Admin" link from the main menu. Select the link Organization > Modules. Review the active Modules for your account and turn on/off any Modules to configure your Organization's THERMS account.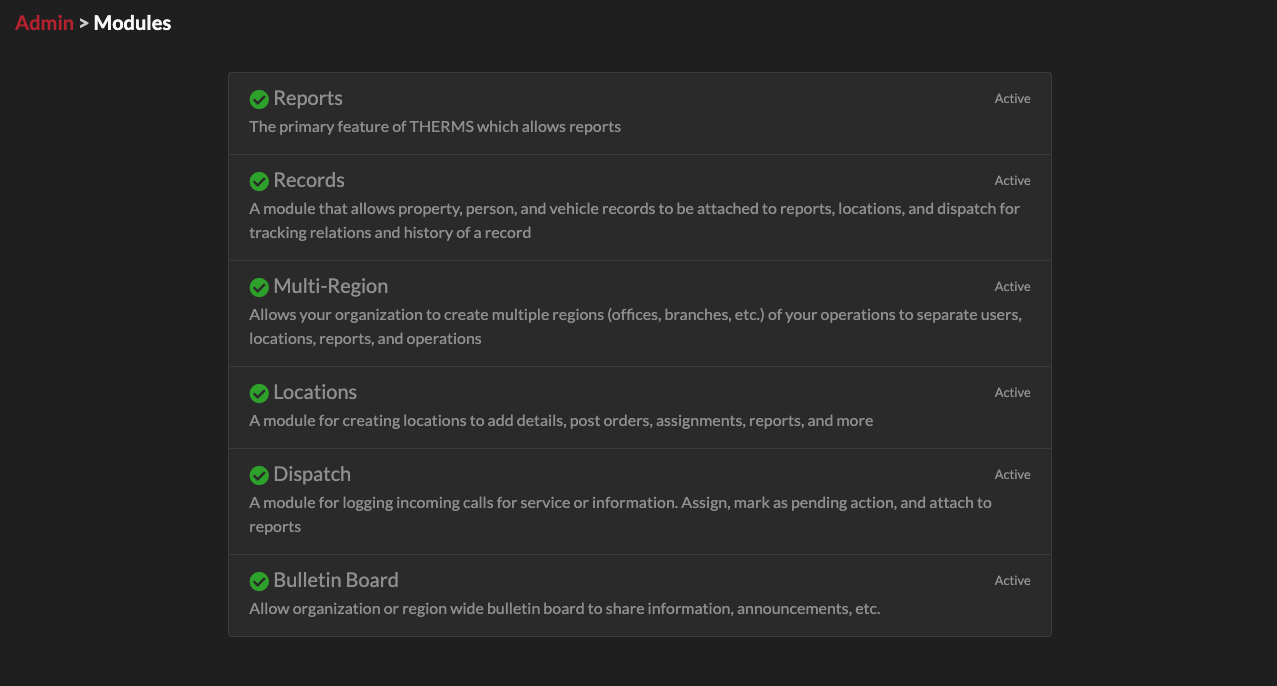 Settings
There are various settings that can be configured for your Organization's account. Navigate to the "Admin" link from the main menu. Select the link Organization > Settings.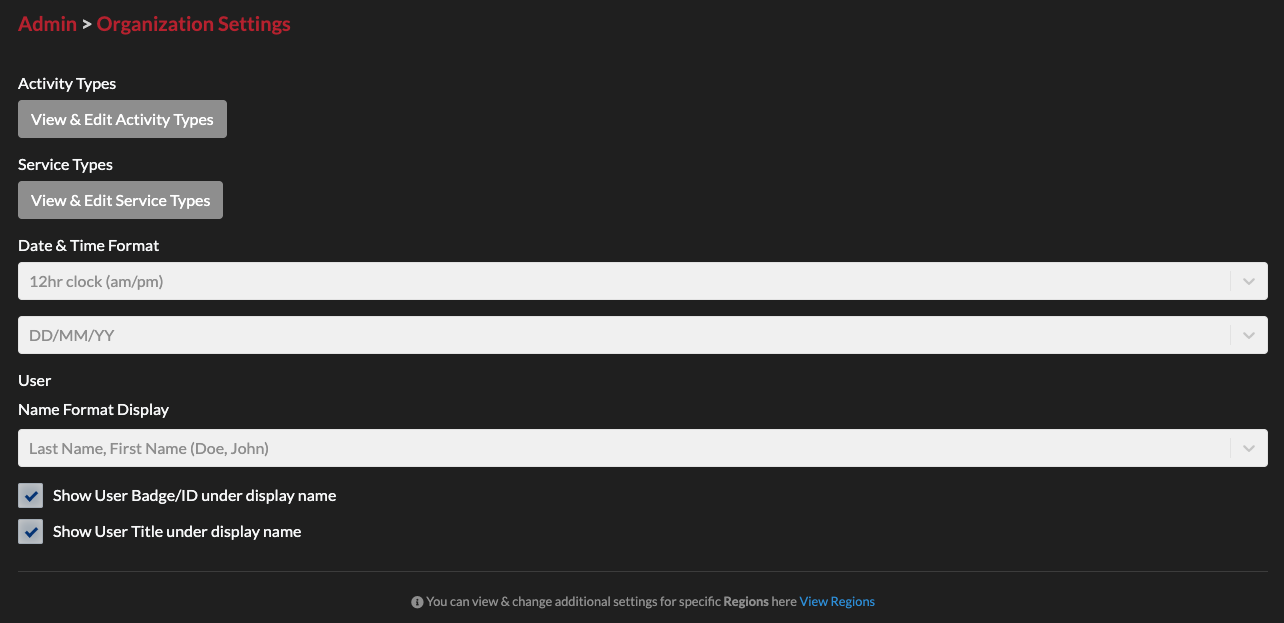 Activity Types
Activity Types are used in many areas of the THERMS app. They are most useful for quickly tagging/designating content with an "activity type". Here is an example list of a few activity types:
Disturbance - Business
Disturbance - Public
Disturbance - Residential
Fire
Fire - Alarm
Suspicious Activity
Suspicious Person
Suspicious Vehicle
Trespassing - Loitering
Trespassing - Refusal to Leave
Trespassing - Rummaging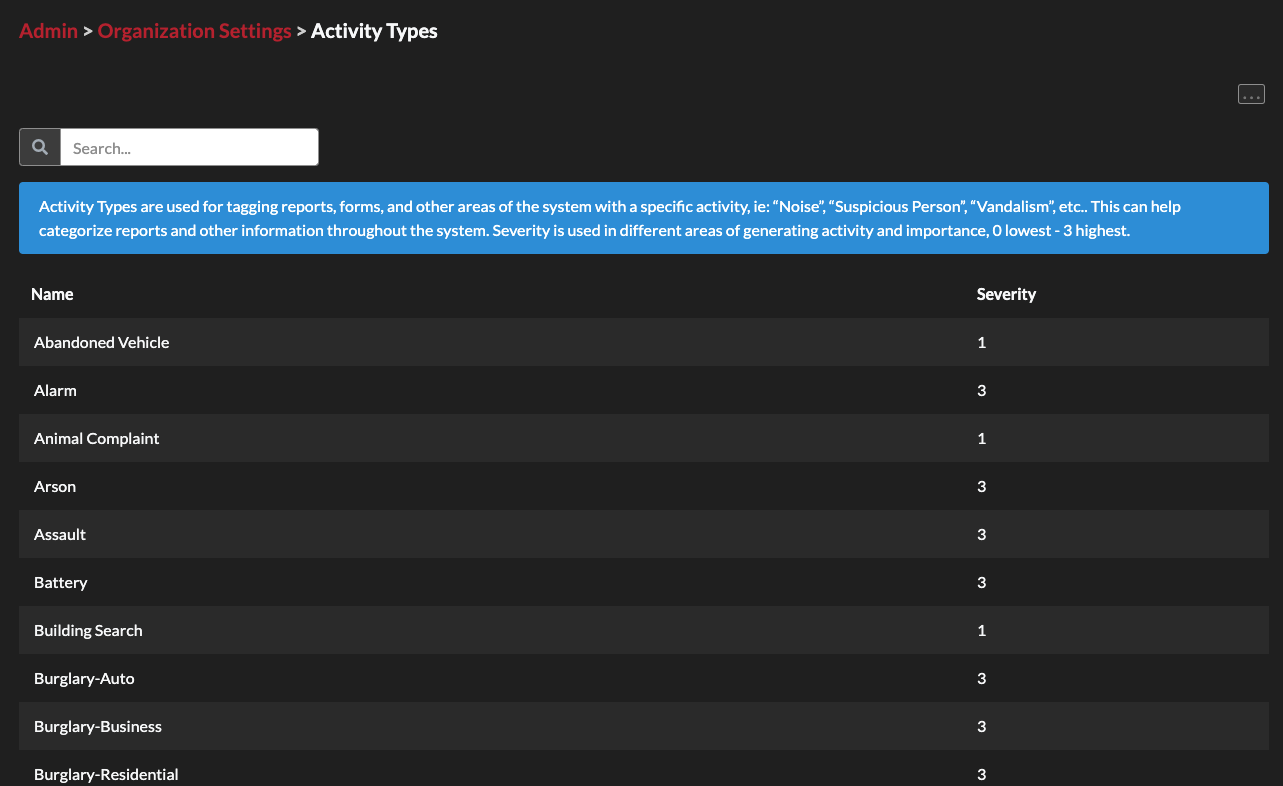 Activity Types can be used to tag Report Entries, Dispatch records, BOLOs, etc. with a specific activity. This helps other Users identify the severity or nature of a Report, Dispatch, BOLO, etc. as well as plays an important role in producing "Stats" for Users, Locations, activity based on the day of the week, and more.
Service Types
Service Types are used to tag Locations with specific services that your Organization offers or provides. These are important to add to Locations for custom "Stats" and combining information to generate statistics across metrics like Locations, Users, Reports, days of the week/month/year.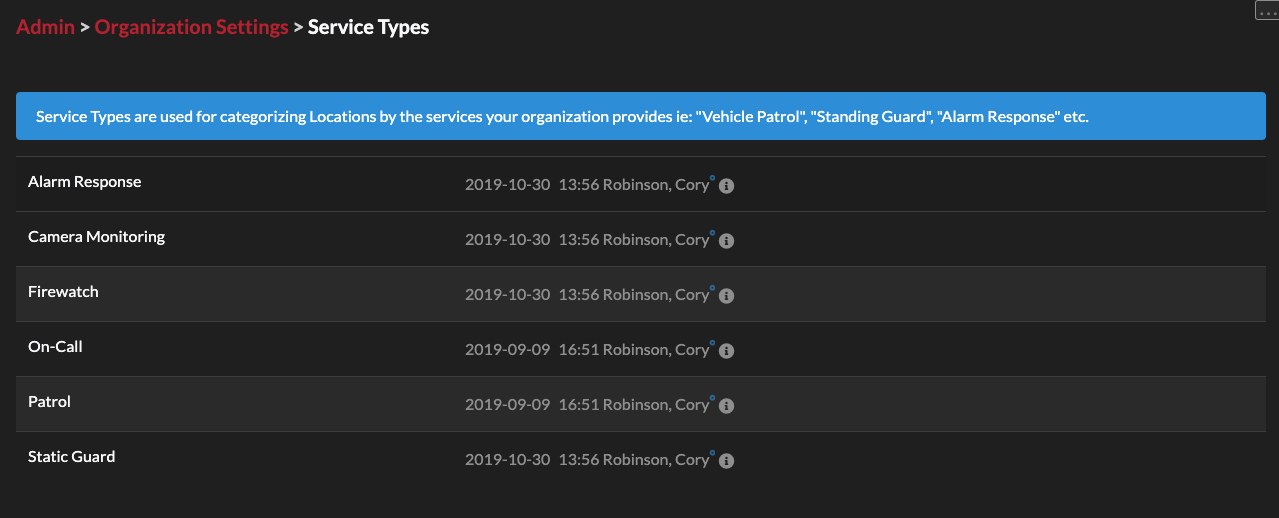 Regions
If your Organization has multiple Regions (Branch Offices) then you'll want to make sure the Regions module is activated under Organization > Modules.
Once this is activated, you will be able to navigate to the Admin area and select the link Regions > Add New Region. Add all of your Organization's Regions. Then, make sure you add yourself to each Region's "Region Access" list.
If you have not yet added Users to your THERMS account, you will be able to add each User's Region while you're creating new Users.