Imagine a situation where you have to relocate a security guard due to an emergency. You might have to call a few security officers to see who is nearby. That will take a lot of time, and the situation at the site might escalate. As a result, you may lose a client, and your reputation will be negatively impacted.
There is no way such a situation will occur if you use security guard management software to manage your security teams.
In the security industry, prompt communication and continuous monitoring are vital in maintaining a good reputation. With this post, I want to highlight the importance of security guard software.
What Is Security Guard Software?
A security guard management system is a desktop or web-based solution that helps a security company manage its security operations. This user-friendly software automates tedious tasks and records all the major and minor details. You can schedule the daily duties of your security officers and monitor their performance while they are on the job site. Managing guard activities would become a breeze with security management software.
Why Do All Security Guard Companies Need Security Guard Software?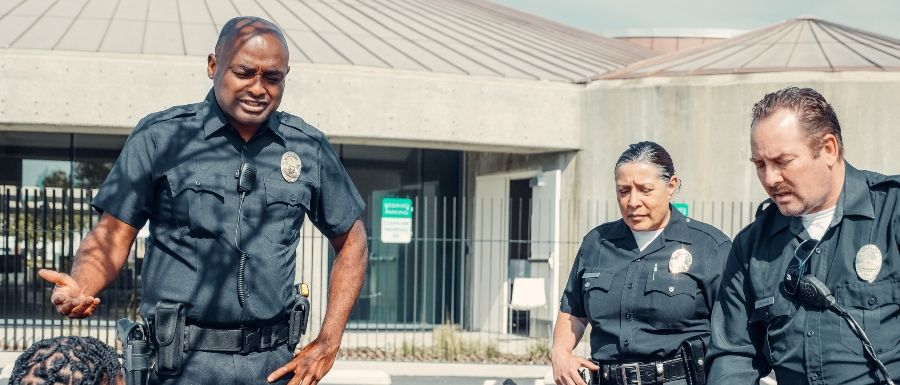 Whether you are a small business organization or a big security company offering security guard services in multiple locations, you will need security guard software. Here are a few reasons for the same.
Track Your Employees In Real-Time
Security guard software can give you real-time data on the whereabouts of your employees. Knowing the location of each security guard at any moment gives you a better chance of monitoring their movements and ensuring they are correctly fulfilling their duty. Also, in case of an emergency, you can send a message to the nearest security guards to show up at the concerned location immediately.
Automated And Accurate Reports
Are you tired of making reports? What if we automate this time-consumable process? The software can record a security guard's working time, attendance, shift changes, and other essential information. The software provides more precise and consistent information and reporting accuracy than humans.
Besides these regular reports, you can also get performance reviews, efficiency audits, and analytical reports to help you filter the staff that is not working as per the company standards.
Monitor Multiple Teams At The Same Time And From Anywhere
Simultaneously managing multiple projects is only possible with the help of technology. With an organized guard management system, you can easily keep track of the activities of different security guard teams simultaneously.
If you have a cloud-based system, you can manage your team from anywhere. All you need is a device to access the software. It is handy for companies that serve multiple locations.
Control The Patrolling Using GEO Fencing
Good software has many features that help you with the overall management of security operations, even patrolling. You won't need a separate guard tour software.
With GPS tracking, you can keep track of employees' locations. But geo-fencing takes it a step further. You can virtually draw some boundaries where your different security teams are working. Each project has some locality limitations to follow. So if your guard steps out of this virtual boundary, you will receive a notification immediately.
Challenge False Accusations
You might have come across many false accusations if you have been in the business for some time. To get a refund, many clients may make false accusations. As a business owner, you should be protecting your employees first. A system that keeps all the records and updates can make it easier to prove that your guard was in the right location at the given time. With data in your hand, you can prove yourself innocent. To everyone starting new, there are chances of such events happening, but with the data on your software, you can save yourself and your employees.
Saves You Money
Using software eliminates spending money on buying registers, calling employees, false accusations, extra salary due to errors in the reports, etc. Moreover, with better performance, you are sure to attract more clients.
Maintains A Good Reputation
For security companies, their reputation is critical. A couple of poor reviews and finding clients becomes more challenging than it is already. Nobody wants to compromise on security measures, right?
This software allows your clients to see how things are running and keep things transparent. They get all the information regarding their project, so they can see how well you perform. Honestly is one trait that can genuinely add to your reputation positively.

It Is Accessible To Your Guards On Their Mobile Device
Security guard software gives easy access to all your staff members on their mobile devices. Moreover, the software is so user-friendly that anyone with limited computer skills can use it.

Create And Update The Security Guard Schedule In A Minute
Creating a schedule was always challenging. But with security guard software, you can set a schedule for the next day or week with a few clicks. In case of last moment changes, the software will notify the employees about the updated schedule, so they don't waste their time going to the wrong place.

Stay Ahead of The Competition
Intelligent software like this will surely increase your team's performance efficiency. The clients will evaluate various brands and prefer a brand with good management software.
Bottom Line
Security guard software is not necessary to run a security guard company. But if you want to scale, reach higher heights, provide better service, cut costs, and win more clients, having software assisting you would be very beneficial. It will give you an edge over the others. Moreover, it is convenient for the staff and the client to get all the information on their mobiles.